Date:
Wed, 02/28/2018 - 12:10pm
Audience:
Princeton University Community: Faculty, Fellows, Students, Staff
Public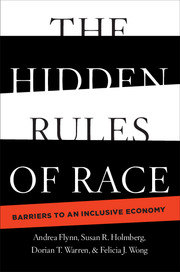 RSVP required: click here
Members of the Princeton community receive priority; members of the public are welcome if space is available. Lunch is provided.
Please join us for a lunchtime book talk with Andrea Flynn and Dorian Warren, to discuss The Hidden Rules of Race: Barriers to an Inclusive Economy.
From Cambridge University Press: "Why do black families own less than white families? Why does school segregation persist decades after Brown v. Board of Education? Why is it harder for black adults to vote than for white adults? Will addressing economic inequality solve racial and gender inequality as well? This book answers all of these questions and more by revealing the hidden rules of race that create barriers to inclusion today. While many Americans are familiar with the histories of slavery and Jim Crow, we often don't understand how the rules of those eras undergird today's economy, reproducing the same racial inequities 150 years after the end of slavery and 50 years after the banning of Jim Crow segregation laws. This book shows how the fight for racial equity has been one of progress and retrenchment, a constant push and pull for inclusion over exclusion. By understanding how our economic and racial rules work together, we can write better rules to finally address inequality in America."
Fellow, Roosevelt Institute
Andrea Flynn is a fellow at the Roosevelt Institute, where she researches and writes about issues that impact women and families. She explores connections between reproductive health care and poverty, state-level restrictions to family planning and abortion, inequality and maternal mortality, and various economic policies that impact the economic security of women and families. In 2014 Andrea presented her paper – "The Title X Factor: Why the Health of America's Women Depends on More Funding for Family Planning" – at a briefing for members of Congress and their staffs. Her writing has appeared in The Atlantic, The New Republic, Cosmopolitan, Salon, The Hill, and Women's eNews. Andrea worked with the Open Society Foundations and the Namibia Women's Health Network to examine human rights issues facing women living with HIV/AIDS and with the Council on Foreign Relations to propose greater investments in reproductive health care in U.S. foreign policy. Andrea also managed the Women Moving Millions campaign, an initiative that raised $190M for women's foundations globally. She was a chosen participant in the Women's Media Center Progressive Women's Voices training, the CoreAlign Generative Fellowship, and Civil Liberty and Public Policy's New Leaders Networking Intiative. Andrea served on the board of directors of the Third Wave Foundation from 2007 until 2014, and currently serves on the organization's Legacy Committee. Andrea received her MPA and MPH from Columbia University, and her BA in journalism and women's studies from Syracuse University.
Board Chair, Center for Community Change
Fellow, Roosevelt Institute
Dorian Warren is a Fellow at the Roosevelt Institute, an MSNBC Contributor, and Board Chair of the Center for Community Change. He is the Host and Executive Producer of "Nerding Out" on MSNBC's digital platform, shift.msnbc.com. A scholar of inequality and American politics, he taught for over a decade at the University of Chicago and Columbia University, where he was Co-Director of the Columbia University Program on Labor Law and Policy, and serves as a Research Associate at the Institute for Research in African-American Studies. A native Chicagoan, Warren received his B.A. from the University of Illinois and his M.A. and Ph.D. in political science from Yale University. He has received research fellowships and grants from the Ford Foundation, CUNY's Murphy Institute, the Public Welfare Foundation, Open Society Foundations, and the Russell Sage Foundation. His research and teaching interests include labor organizing, politics & policy; race and ethnic politics; African-American politics; urban politics and policy; American political development; community organizing and social movements; and social science methodology. Warren has worked with several national and local organizations including the Leadership Conference on Civil and Human Rights, American Rights at Work/Jobs with Justice, AFL-CIO, CTW, UNITE-HERE, SEIU, UFCW, Steelworkers, and the NGLTF Policy Institute, among others. He currently serves on several boards including Race Forward, Alliance for a Greater New York, Working Partnerships USA, the Model Alliance, the Workers Lab, the Discount Foundation and The Nation Magazine Editorial Board. He is also Co-Chair of the AFL-CIO's Commission on Racial Justice Advisory Council. As a commentator on public affairs, Warren has appeared regularly on television and radio including NBC Nightly News, ABC, MSNBC, CNN, CNBC, BET, BBC, NPR, Bloomberg, & NY1, among other outlets. In 2013, he was included on the list of NBC's theGrio's 100 people making history today. He is the author of the forthcoming The Three Faces of Unions: Inclusion & Democracy in the U.S. Labor Movement (Oxford University Press), and (with Virginia Parks) Boxing Out: Walmart & the Politics of Labor Market Regulation from Below (Russell Sage Foundation Press).